Applied Biosafety: Journal of ABSA International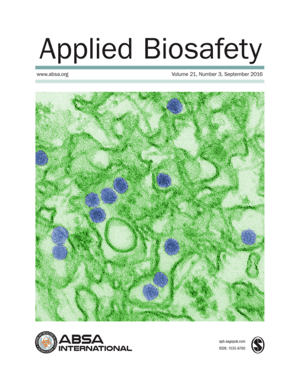 Applied Biosafety: Journal of ABSA International (APB) is a peer-reviewed, scientific journal committed to promoting global biosafety awareness and best practices to prevent occupational exposures and adverse environmental impacts related to biohazardous releases. A goal of Applied Biosafety is to provide a forum for exchange of sound biosafety and biosecurity initiatives through publication of original articles, review articles, letters to the editors, commentaries, and brief reviews. We welcome and encourage submissions which further the profession of biosafety.
Members must first LOG IN to gain full access to the journal.
(see login button at top right corner of this page or visit the LOG IN page.)
my.ABSA.org Help Desk
.
Online First: articles published before they appear in a print or online issue of a journal to deliver the latest research as quickly as possible.

Applied Biosafety Author Submission Site


Applied Biosafety Information for Contributors (Guidelines for Manuscripts)


Applied Biosafety Subscriptions


Applied Biosafety Published Manuscripts (open access after 12 months)